Maintenance schedule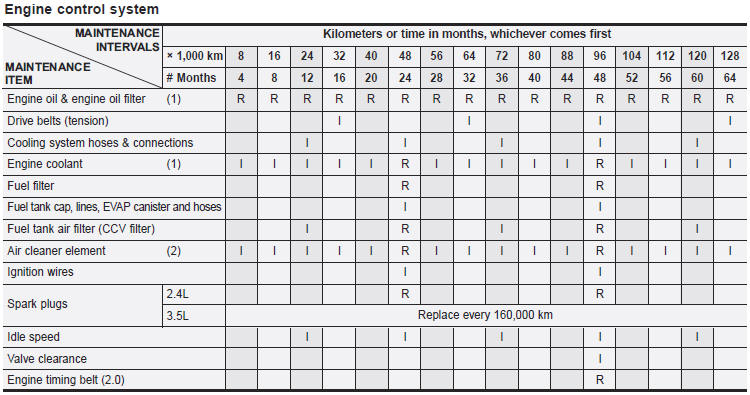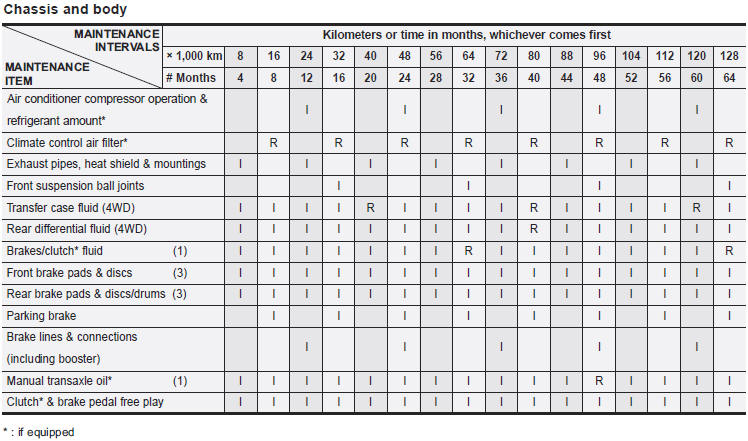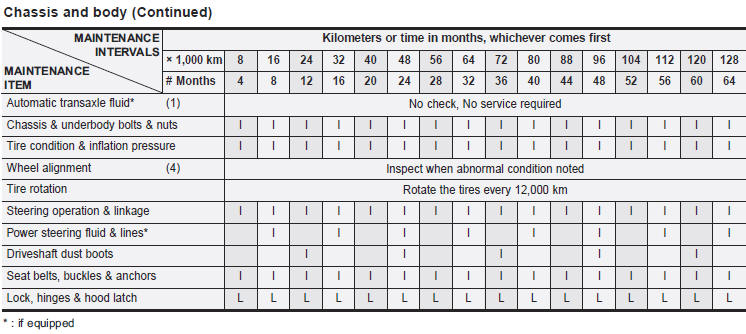 Chart symbols:
I- Inspect these items and their related parts. If necessary, correct, clean, refill, adjust or replace.
R- Replace or change
L- Lubricate.
(1) Refer to the lubricant and coolant specifications in the Owner's Manual.
(2) More frequent maintenance is required if driving under dusty conditions.
(3) More frequent maintenance is required if the vehicle is operated under any of the following conditions: a. Short-distance driving.
b. Driving on dusty roads.
c. Extensive idling or slow-speed driving in stop-and-go traffic.
(4) If necessary, rotate and balance the wheels.
* Note: Check the engine oil and coolant levels every week.
See also:
Your vehicle at a glance
Interior overview Instrument panel overview Engine compartment ...
Engine compartment
2.0L Gasoline Engine 1. Power steering fluid reservoir 2. Engine oil filler cap 3. Brake fluid reservoir 4. Air cleaner 5. Fuse box 6. Negative battery terminal 7. Radiator cap 8. Positive b ...
Confident and Contemporary Exterior
Based on the Kia KND-4 Concept shown during the 2007 Los Angeles Auto Show, Kia Sorento offers the same swept-back lines and dynamic presence as the concept vehicle. With an angled window line, la ...