Keys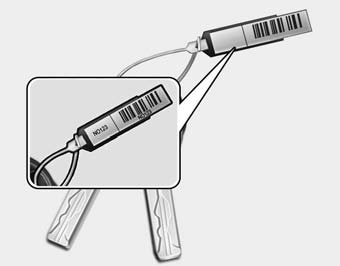 The key code number is stamped on the plate attached to the key set. Should you lose your keys, this number will enable an authorized Kia dealer to duplicate the keys easily. Remove the plate and store it in a safe place. Also, record the code number and keep it in a safe and handy place, but not in the vehicle. Use only Kia-approved key blanks.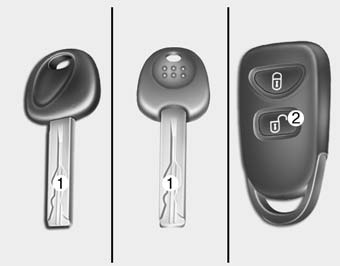 Key operations
(1) Master key
Used to start the engine, lock and unlock the doors, and open the trunk (if equipped).
(2) Transmitter (if equipped) Used to lock and unlock the doors.
WARNING - Ignition key Leaving children unattended in a vehicle with the ignition key is dangerous even if the key is not in the ignition. Children copy adults and they could place the key in the ignition.
The ignition key would enable children to operate power windows or other controls, or even make the vehicle move, which could result in serious bodily injury or even death.
Never leave the keys in your vehicle with unsupervised children.
CAUTION
Use only Kia original parts for the ignition key in your vehicle. If an aftermarket key is used, the ignition switch may not return to ON after START. If this happens, the starter will continue to operate causing damage to the starter motor and possible fire due to excessive current in the wiring.
See also:
By the numbers
The Kia Optima is a five-seat mid-size segment passenger car that has an interior that the EPA will probably consider a full size interior. Longer, lower and wider than the vehicle it replaces, it ...
Steering wheel
Power steering (if equipped) Power steering uses energy from the engine to assist you in steering the vehicle. If the engine is off or if the power steering system becomes inoperative, the vehicl ...
Enhancing occupant and pedestrian safety
Fitted as standard in most European countries, new safety features will include ESC with a new Roll-over Sensor that deploys the side airbags, curtain airbags and seatbelt pretensioners when requi ...