Specifications
The specifications given here are for general information only. Although this information was accurate at the time of printing, Kia reserves the right to change its vehicles or their specifications without notice. Please check with an authorized Kia dealer for more precise and more up-to-date information.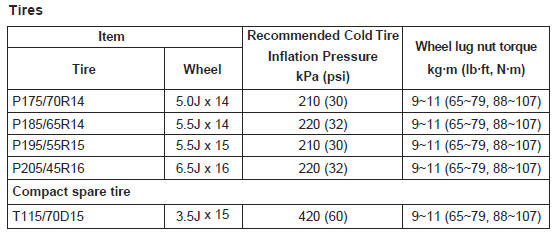 Weights
Refer to the label describing GVWR & GAWR weights attached to your vehicle.
(see page 5-10, Label information)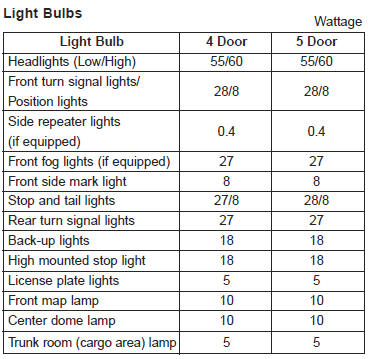 *1 Refer to the recommended SAE viscosity numbers on the page 7-32.
*2 If the API service SM engine oil is not available in your country, you are able to
use API service SL.
See also:
Washer fluid
Checking the washer fluid level The reservoir is translucent so that you can check the level with a quick visual inspection. Check the fluid level in the washer fluid reservoir and add fluid if ...
Engine compartment
1.6L 1. Engine coolant reservoir 2. Engine oil filler cap 3. Brake fluid reservoir 4. Air cleaner 5. Fuse box 6. Negative battery terminal 7. Positive battery terminal 8. Radiator cap 9. En ...
Engine compartment
2.4L 1. Engine Coolant Reservoir 2. Windshield Washer Fluid Reservoir 3. Power Steering Fluid Reservoir* 4. Radiator Cap 5. Engine Oil Filler Cap 6. Engine Oil Dipstick 7. Brake Fluid Reservo ...