Specifications
The specifications given here are for general information only. Although this information was accurate at the time of printing, Kia reserves the right to change its vehicles or their specifications without notice. Please check with an authorized Kia dealer for more precise and more up-to-date information.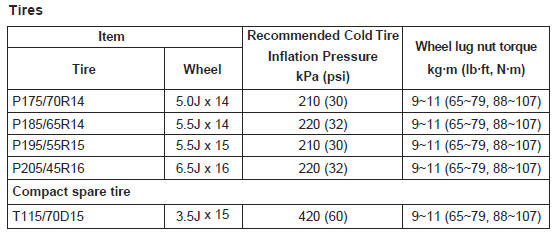 Weights
Refer to the label describing GVWR & GAWR weights attached to your vehicle.
(see page 5-10, Label information)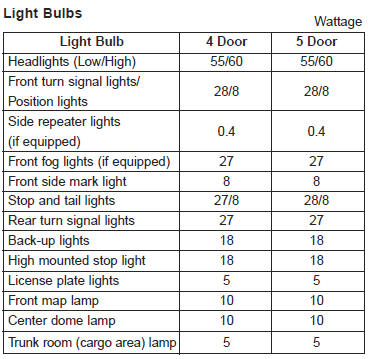 *1 Refer to the recommended SAE viscosity numbers on the page 7-32.
*2 If the API service SM engine oil is not available in your country, you are able to
use API service SL.
See also:
Tailgate
Opening the tailgate • The tailgate is locked or unlocked when all doors are locked or unlocked with the key, transmitter (or smart key) or central door lock switch. • If unlocked, the tail ...
Instrument panel overview
1. Driver's Front Air Bag .......................3-33 2. Light Control / Turn Signals..............4-47 3. Instrument Cluster............................4-32 4. Wiper/Washer...................... ...
Fuel requirements
unleaded fuel having a pump octane number ((R+M)/2) of 87 (Research Octane Number 91) or higher. Your new vehicle is designed to obtain maximum performance with UNLEADED FUEL, as well as minimize ...